Scanned copy, if there are errors, please e-mail me with corrections:
---

Amphibian Voice Summer 2002 Vol. 12 No.2 pages 1 & 2
- Newsletter of the Adopt-A-Pond Wetland Conservation Programme
- Toronto Zoo Click for the Cawthra Bush article in this newsletter.

Ontario's Ephemeral Wetlands

The Vernalis Project:

Searching Ontario for Ephemeral Wetland Habitat

By: Bentley Christie

This spring marked the very humble beginnings of the Vernalis Project, a personal effort to compile data on and raise awareness of ephemeral wetland habitats in Ontario.

With a quick surf of the web one can see that these habitats with the unique organisms that live in and around them have become a hot topic for discussion in parts of the United States. Much of the attention has been focused on California, where environmentalists have been struggling to prevent developers and others from destroying these unique habitats. According to various figures, over 90% of the ephemeral wetlands (also referred to as temporary and vernal pools/ponds) in the state have been lost. How could this be? Well, as aptly stated on the Environmental Protection Agency's website, these habitats are "often smaller than the bulldozer that threatens to destroy them". Commonly appearing simply as oversized puddles, ephemeral wetlands are often overlooked because of their small size and the characteristic dry phase.
Photo by Don B - FCB
The Fairy shrimp is an organism that depends on ephemeral wetland habitats for survival. Fairy shrimp are close relatives of the well-known crustaceans, brine shrimp (a.k.a. Sea Monkeys TM), and it was these fascinating creatures that originally ignited my interest in ephemeral wetlands. Currently in California, five Fairy shrimp species are listed as either endangered or threatened, while continued efforts are being made to attain protected status for others. In Ontario there are presently records for two different (but very closely related) species. In terms of size and population Ontario is faced with a somewhat different situation, having more than twice as much land area with about 1/3 the population of California, so the threat may not be quite so apparent. It is very important to initiate and continue conservation efforts in Ontario, especially in the densely populated areas of the
Continued from Page 1
south, to prevent a similar fate as California. This year my goal for the Vernalis Project was to locate as many Fairy shrimp pools as I could in Southern Ontario, a task more difficult than I had planned. Aside from the relatively short window of opportunity (Fairy shrimp lifecycle is usually completed in about a month), I soon discovered that there are many ephemeral wetlands that don't have these crustaceans in them. In the end, I managed to track down 30 Fairy shrimp pools but discovered many other ephemeral wetlands in the process.
So what does the future hold for the Vernalis Project? Well, aside from continuing to expand the database of Ontario's ephemeral wetlands I'm hoping to launch a website outlining my discoveries. I'm also very interested in incorporating amphibian and reptile (herpetofaunal) data into the project as well. I began the Vernalis Project because I recognised that ephemeral wetlands in Ontario are often overlooked habitats. I plan to continue my quest to identify as many ephemeral wetlands as I can in Ontario in order to thwart a similar fate as ephemeral wetlands in California.
[Map of Ontario but shows no details ]
* Editor's Note:
Bentley Christie is an honours Bachelor of Science graduate in Biology
(aquatic ecosystems).
The Vernalis Project is an example of ONE person working to make a difference.
To find out more about these habitats check out http://www.vernalpool.org.
Also, stay tuned to http://www.torontozoo.com/adoptapond
for opportunities to participate in ephemeral wetland conservation in Ontario.

---
---

[ COMMENTS BY DON B. -

Added bonus pictures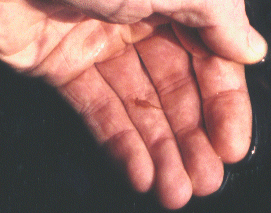 This was the first Fairy Shrimp found in 2002, during the daylight no less by Bentley Christie (his hand to), and I didn't expect to find any.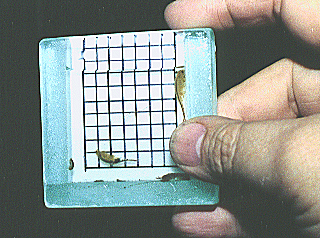 This is a present given to Bentley Christie, something I made up and call a "Handy-dandy-pocket-aquarium" just for looking at small pond life and not only is it easy to carry around but you can catch things with it as well. ]